Moto2: Canet Masters Difficult Conditions to Take Pole for Japanese GP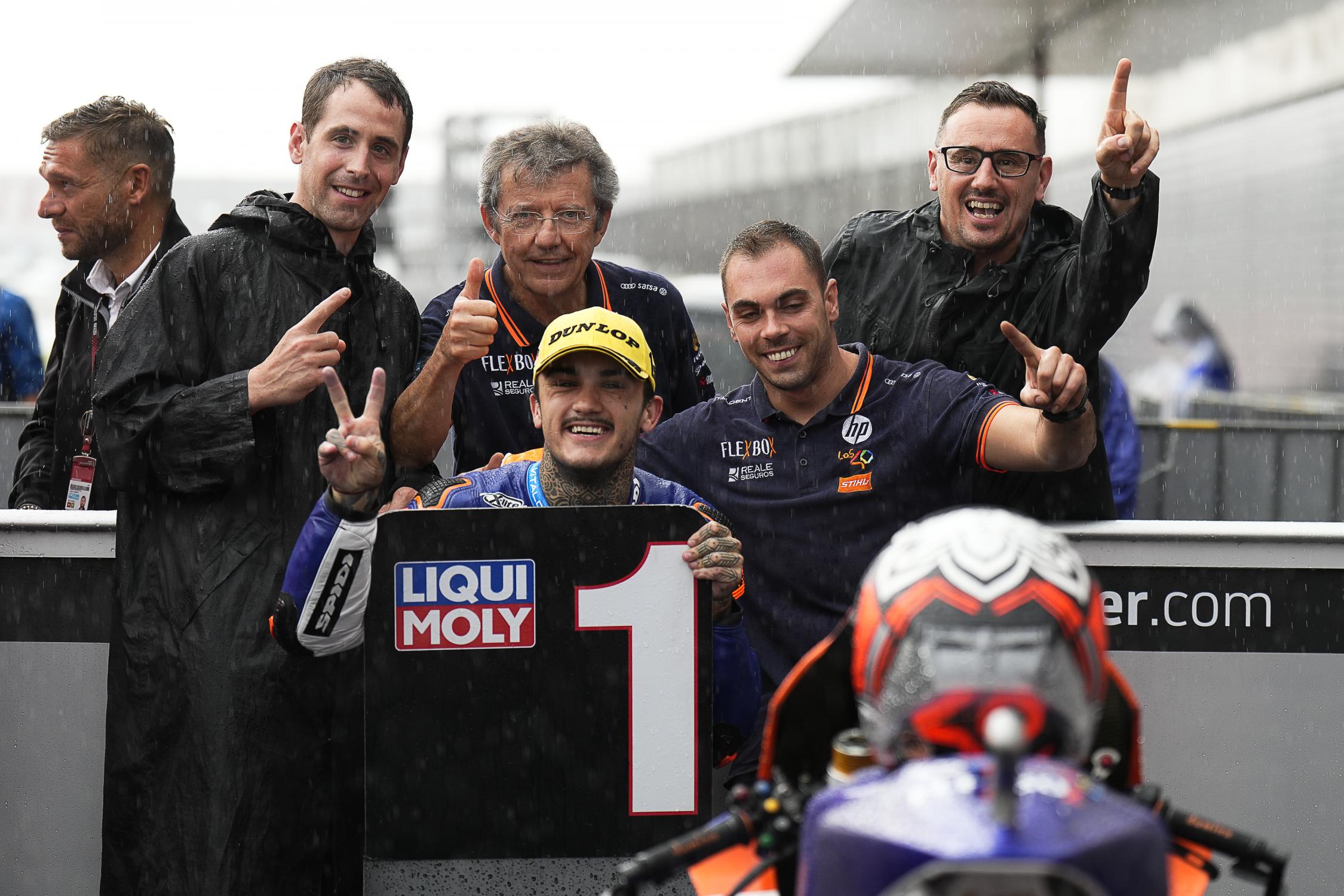 24/09/2022 13:37
Aron Canet takes a brilliant pole position ahead of this weekend's Japanese Grand Prix in Montegi. Fermin Aldeguer will line up just behind him in 2nd with Jake Dixon in 3rd.
Aron Canet is the Master of Montegi today – he not only had to make his way through Q1 but also had to contend with red flags and poor weather conditions on his way to securing pole position. The Flexbox HP40 rider set a time of 2:04.939 in the late stages of the session but found himself at the top of the timing sheets for much of Q1 and Q2, showing his dominance on this track and in these changeable conditions.
Fermin Aldeguer was lucky to keep hold of 2nd place after his lap time was deleted due to a yellow flag infringement. A manual check after the session showed that there was, in fact, no infringement and Aldeguer was given back his lap time of 2:05.272.
Jake Dixon is known to love these wet conditions and has often enjoyed good results during previous rain-soaked sessions. That was true today as he spent much of Q2 towards the top of the timing sheets, eventually ending the session in a decent 3rd place.
Our two championship contenders faced a difficult day with Augusto Fernandez qualifying in 11th and Ai Ogura qualifying in 13th. Our winner from last time out, Pedro Acosta was stuck down in 18th, unable to find the pace on any of his 8 flying laps in Q2.
QUALIFYING 1

In this session, some of the big names included Canet, Sam Lowes, Marcel Schrotter and previous championship contender, Celestino Vietti. The rain fell on and off throughout the session, with poor visibility caused by both the spray and the dark conditions. Whilst getting used to these conditions, there were early moments for Lowes and Canet. Everyone started Q1 by tiptoeing around the track and avoiding the kerbs as much as possible.

The early leader in the session was Barry Baltus, the Dutch rider, who laid down his intentions with 10 minutes left on the clock. Canet soon joined him at the top and they were both swapping between first and second throughout the early stages of the session.

With just over 7 minutes left on the clock, Jeremy Alcoba went down at the outside of Turn 4, bringing out our first yellow flags.

Shortly after, Lowes leaped up to third, setting a time of 2:07.4, and pushing Vietti out of the top 4. However, shortly after, Lowes also went down at Turn 4 – a highside threw him over the front of the bike in a nasty looking accident. He will be frustrated with this incident on his return to Moto2 after recently dislocating his shoulder and working hard to get back on the grid.

The next rider to go down, with 3.5 minutes left in the session, was Niccolo Antonelli. He went down at Turn 11 as the bike slipped from under him, without having been able to set a timed lap in the session. He eventually rejoined the action and ended the session in 12th.

The resulting yellow flags seemed to hinder most of the grid with Baltus and Canet still at the top with 2 minutes to go. Vietti then leapfrogs Lowes for 4th, with a 2.07.1.

Despite Baltus improving on his own lap time, he is beaten shortly after by Canet who lays down a 2.05.5 – no one is able to improve on that time and this keeps Canet at the top for the rest of the session.

The checkered flag falls with Canet, Baltus, Schrotter and Vietti in the top four. On their final flying laps, Keminth Kubo propels himself up to 3rd, bringing Lorenzo Dalla Porta and home hero Taiga Hada with him. Schrotter had already met the checkered flag and was unable to fight back as this group shuffled him down to 6th.

Cameron Beaubier, the final rider to set a flying lap, sneakily steals the final Q2 position as he shuffles Dalla Porta, Haga and Schrotter down to 5th, 6th and 7th.

That meant that the session ended with Canet on top, thanks to a time of 2:05.543, just ahead of Baltus in 2nd, Kubo in 3rd and Beaubier in 4th, all of whom progress to Q2.

QUALIFYING 2

Thunder and lightning was in the air for our second qualifying session, causing issues for the timing systems and on-screen graphics. Given how hard the rain was falling, it was important for riders to get out on the track quickly and lay down a timed lap – conditions this unpredictable can lead to anything!

With just over 9 minutes remaining, the conditions became too tricky to contend with and the red flag was quickly brought out. Standing water on the track and heavy rain fall meant that the track simply wasn't safe enough to finish the session.

At that point, Canet was leading the pack with a time of 2:07.503, which was miles away from his fastest time in Q1. Just behind him was Somkiat Chantra and Dixon.

The session restarts some hours later, but with much better conditions. However, with a shorter session to contend with, getting on to the pace early was going to be key. As the lights went green, everyone was quickly out on the track.

The first flying laps highlighted the improving conditions as every rider was able to improve on their previous lap times. Canet's previous fastest lap was quickly beaten by Dixon, before Canet regained his place at the top of the timings with a 2:05.875. Slotting in just behind them was Aldguer in third.

With 3 minutes on the clock, the first yellow flag of the Q2 session was waved as Albert Arenas went down at the end of Sector 2. Shortly after, Alonso Lopez went down at Turn 11 to bring out yet another yellow flag. At that point, both riders were stuck in 15th and 8th respectively but you eventually end the session in 17th and 12th respectively.

With less than a minute to go, Aldeguer propels himself to the top of the timings sheet, as he sets a time of 2:05.272. However, Dixon and Canet are both on personal best laps. Dixon slots himself into third whilst Canet regains provisional pole, leaving Aldeguer in second.

With just 30 seconds left on the clock, the rain starts to fall once again. Navarro then crashes at Turn 4, bringing out a yellow flag in Sector 1. The worsening conditions and the yellow flag seem to hinder anyone from improving.

As the checkered flag falls, the only rider to improve is Tony Arbolino, who leaps from 12th up to 4th, as other improvers have their lap times deleted thanks to that yellow flag.

Aldeguer also has his lap time temporarily deleted – this was initially due to a yellow flag infringement but a manual review found this to be incorrect and he was allowed to keep hold of second place.

Feature Image Credit: MotoGP